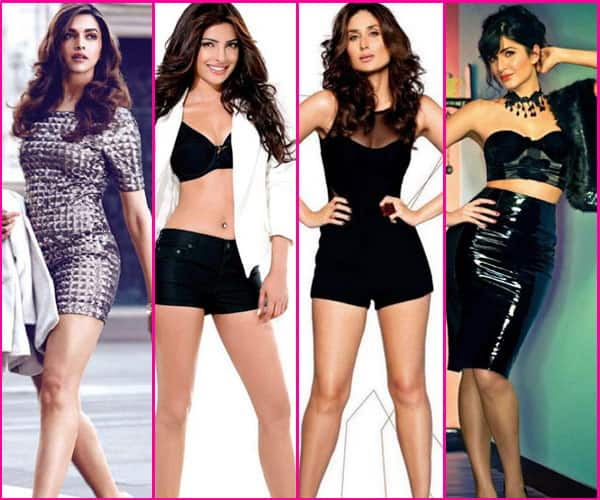 Bollywood actors are queuing up to participate in the upcoming Lok Sabha elections, but here's our pick of Bollywood babes who should make a glamourous and add their star value in the otherwise colourless political duniya…
Deepika Padukone, Katrina Kaif, Priyanka Chopra and Kareena Kapoor Khan would add the much needed spunk in the serious and grim world of politics. May be their sex appeal might just add to the otherwise drab election propaganda. While we know that dimpled beauties like Kirron Kher and Gul Panag have already found their ticket to politics and then there are actors who have turned politicians like Rekha, Jaya Bachchan, Hema Malini or Jaylalitha who are making waves in rajneeti . But here's why the ruling queens of tinsel town can add to up the glam quotient in the more serious elections.
Deepika Padukone:
Talking about Bollywood's political scenario, she has changed the whole number game in Hindi film industry post her successful stint last year. She delivered four Rs 100 crore movies and is sought after by most filmmakers today. While
Dippy
has become a victim of success, thanks to other heroines boycotting this babe and asking their stylists to follow their diktat, we are sure that her lucky streak is still going strong. Not only will this leggy lass bring beauty on a podium but her midas touch might work wonders for politicos,
hai na
?
Priyanka Chopra:
The
Exotic babe
sang her way into the hearts of her fans. From being a Bollywood heroine, she's now an international artist and a songstress. We're sure that PeeCee's In My City might just prove like a perfect anthem for some party and can easily set the mood for a fun party. Not to forget the actor might also get some practice for her role in Madhur Bhandarkar's next film
Madamji,
which happens to be based on an item gal turned politician.
Katrina Kaif: The Rajneeti actor's stint as a politician in Prakash Jha's film starring beau Ranbir Kapoor didn't get her as much accolades, however her popularity and Chikni chameli act will make a normal promotional event an instant hit, right? Considering that everyone from Akshay Kumar to Kabir Khan consider Kat as their lucky mascot she might make for an interesting collaboration for a needy political party.
Kareena Kapoor Khan:
This beauty is definitely out of action in Bollywood, so unlike her contemporaries she can make a easy switch to the other world. And unlike the senior heroines, she doesn't need to wait another few years to change her profession. With a little help from Nawab husband Saif Ali Khan, some smart suggestions from
saasuma
Sharmila Tagore and support from good friend Karan Johar we're sure the sexy Ms
Kapoor Khan
can make a brand new career and lend her star presence.