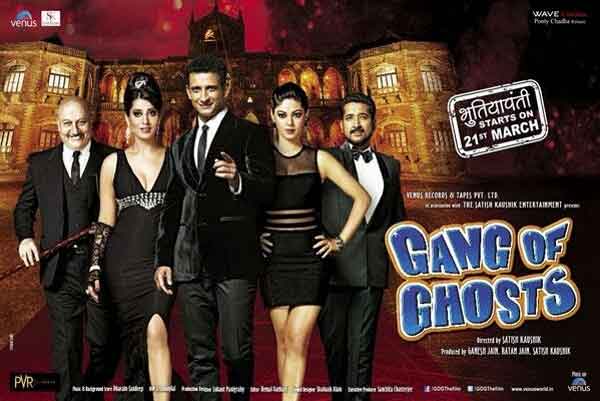 Like we said in the quick review, the movie is a roller coaster ride with more lows than highs and we definitely stick to our opinion!
There is no doubt about the fact that Satish Kaushik's
Gangs of Ghosts -
the Hindi remake of famous Bengali film
Bhooter Bhobishyo,
meaning future of the ghosts - disappoints in more ways than one. However, let's come to the bashing a little later and start on a good note.
Talking about good note,
Gang of Ghosts
does start well with Parambrata Chatterjee and Sharman Joshi, who have given a good performance – complete with flawless expressions, dialogue delivery et al. Not to forget,
Anupam Kher
, Saurabh Shukla and Rajpal Yadav, who have also done commendable jobs at playing their respective characters. As is proven in the film, except
Mahie Gill
every actor is good at comedy.
If only good actors could make a great film (how we wish!). Sadly for us (we had to watch the movie) and for those who have worked really hard in Gangs Of Ghosts, Satish Kaushik surprisingly could not pull off a comedy the way we expected. Now this is not a horror film, but it revolves around the lives of ghosts (sounds funny and oxymoronic, we know), who are in distress because someone or the other is constantly trying to destroy their humble abode.
The story of Gangs Of Ghosts is a satirical take on today's political system, Bollywood and real estate scams which would have transformed into a great film if the story treatment and scripting was done the right way. The movie has some pace and jokes in the first half but nosedives into becoming an intolerable experience because of strategical (read, cheap) shots of the female actors, unnecessary songs (which are worth abhorring), a script with so many loopholes that can be compared with Indian roads, and shot in such a way that it will eventually give you a headache.
All in all, Gangs Of Ghosts can be certainly avoided. Its sad to see the work of such talented actors go waste.